Current Self Care Promos 
Mother's Day Mini Make Over and Photo Shoot
Every Mother knows we don't have great pictures of ourselves because we are always taking pictures of EVERYONE ELSE!! Here is your chance to get the right angle, your whole face in it not blurry etc etc!  Well book mom, in or Mom, Book yourself in for a great photo!  Maybe even for your social media pic, or head shot!! Cause we are ALWAYS multi tasking!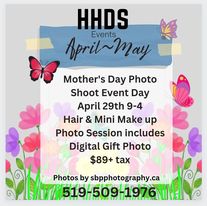 So Many amazing events coming to our 
HHDS Mount Forest Art Gallery 2023….
Our current exhibit celebrates local Student and Staff artists from Wellington Heights Secondary School!  The open house WAS AMAZING! the exhibit is on till the Middle Of May so catch it while you can!  Once that exhibit is over we will be hosting Dot Corks Students work from the middle of May to July 1 2023.  Come stroll through our second floor Gallery above Hybrid Hair And Detox Spa, where daily Eco Friendly creativity is a daily event with our custom and Master Level Hair Design!
April 1st – May 5th 2023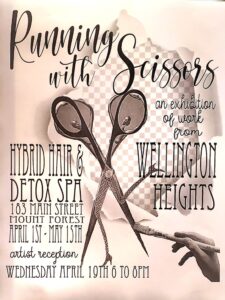 May 19 – July 1 2023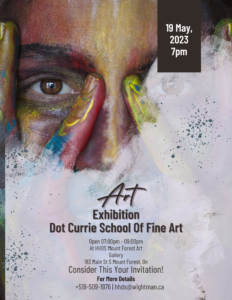 Open house and awards evening May 19th beginning at 7pm.  Come enjoy Art pieces created by art students of all ages from Dot Currie's Fine arts School of Mount Forest.
Monthly Art Classes with our Art Partners!
Enjoy acrylic class art guidance with a 2 hour monthly paint night with …
June Turner
You can reserve your seats by clicking on her Facebook Event Links like this one below for the May paint night…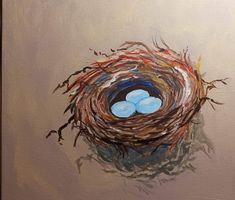 https://www.facebook.com/groups/208144586330897/permalink/1584721162006559/?mibextid=Nif5oz
See the following list of dates with June coming up!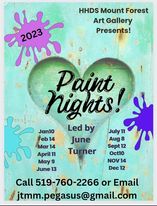 Or Sign up for Alcohol Paint Nights, Typically Weds Nights, watch our Social Media for events with…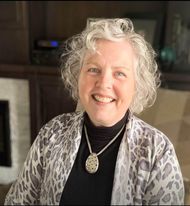 Debbie Kunert
Instagram:  @Blackbird_Lane_Studio
Facebook:  Blackbird Lane Studio
Email:  blackbirdlanestudio@gmail.com
Website: www.blackbirdlanestudio.square.site
Deb is a self-taught mixed media artist, miniaturist and owner of Blackbird Lane Studio in Mount Forest, Ontario. Her art is inspired by nature and her love of colour. She has been creating for more than 30 years but has recently shifted to alcohol inks as her medium of choice. "The way the ink moves and layers is mesmerizing and a great way to get lost in your thoughts", says the artist. Blackbird Lane Studio began as a way to share her one-of-a-kind art cards and has evolved to include not only greeting cards but original art pieces, hand-dyed silk scarves, jewellery, home décor and custom work. Debbie also creates dollhouse miniatures in 1/12th and 1/24th scale and is currently renovating a dollhouse she built 20 years ago. 
What is Alcohol Ink?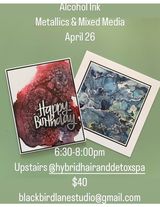 Alcohol ink is an acid-free vividly coloured, alcohol-based dye that is liquid, translucent and fast drying. It is best used on non-porous surfaces (e.g., glass, ceramics, Yupo). Mixing colours can create a vibrant, marbled, and fluid effect.
Come check out and support your local Artists, inquire about commissioning pieces or purchase one you see on display!
Are you an artist?  Do you know one? 
We are offering FREE Wall space and No Commission rates to local artists! 
Email us at
hhds@wightman.ca 
For more info on how to have your work in our Upstairs Gallery Exhibit space.  We will be announcing viewing options as soon as all the work is dropped off and the exhibit designed, super excited!
Current Promos With Erin….
NEW !!
  Yoga Classes and Holistic Life Coaching
weekly study Group Options! 
Each class pre register by emailing
               hhds@wightman.ca or call 519-509-1976 
to confirm your spot.  Yoga classes are limited to 4 in person, online unlimited.  HLC Study Group 10 in person
With Erin Kiers
FRC Yoga ~ $20
Movement Classes 1 Hour Joint Prep, Tendon and Ligament care prior to bigger movement Yoga Flows.  Maintaining and Increasing range of motion to reduce injury not just in class but in every day movement.  Move more mindfully and more sustainably.  Currently 2 classes a week, future classes may be added based on demand:
3pm Thursdays Beginners, Chair and Mat Yoga
3pm Saturdays FRC Mat Yoga
4:30 Saturdays Restorative Yoga
~ $20/class
Restorative Yoga is Reparative for the mind body and soul.  Soothe shredded nerves.  Improve Mental Health, Circulation and digestion, reduce cortisol.  These Essential Yoking of Mind and Body is the most effective cup filling class you can participate in.  Currently 2 classes a week, future classes may be added based on demand:
Holistic Life Coaching Study Group ~ $20
Meet in a group once a week for mental and emotional skills and tools with collective support and empathy.  These small group sessions are meant to introduce you to Holistic Life Coaching and Energy Psychology in an affordable and informal setting.  Making mental and emotional well being and sustainability accessible to our local community has been at the root of Erin's return to her home town.  Group attendees enjoy 20% off private sessions with Erin to discuss more sensitive challenges.  Private sessions and HLC as well as EP Certification  Training is available to those who wish to commit fully to their personal transformation journey.  Potential future career opportunities in the mental and emotional health field available to you in your own practice and even teaching others post successful Exam completion and certification. 
Every Tuesday 7-8:30
****Prepaid Packages available for
Yoga and Holistic Life Coaching Study Group
10 Classes for $180 ($18 per class)
20 Classes $299 ($15 per class)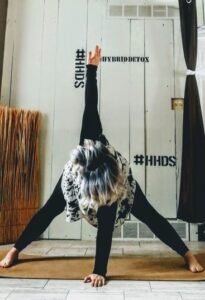 Owner of HHDS and IHL,
Master Stylist
Reiki Master
Holistic Life Coach/Energy Psychologist
Educator
 Yogi
Author/Speaker
 Hours 2023
Tues.  By Appt
Weds. By Appt
Thurs.  10 – 3
Fri.  10 – 8
Sat. 8 – 3
519-509-1976 ~ hhds@wightman.ca
Model Search
Local hair and skin models needed
Want the latest style and service? For Free??
We are searching for local Men, Women and Children for the latest in coloring cutting, styling and esthetic techniques.  As a model for HHDS and Apothecary Skin care you receive the services FREE all we ask is that you call to sign up as a model with what services you are open to participating in and we will call you for uses in in-salon/spa classes and or photo shoots.  All shapes sizes and ages!  Requirements are that you have an open mind as these events are for pushing the envelope and trying new things!  Check out past shoots on our web page and Facebook!